Join Bukky's email list for the latest news & receive a free gift!
Welcome! I'm here to help you connect with God's love through words and song
We welcome you with warmth and love! Bukky Agboola is a prolific author, dynamic speaker and gospel recording artist whose words have taken her across different strata of society and changed the lives of thousands of people. Bukky is one of the female Christian authors who are zealously working to spread God's word through her books. She is a graduate of Obafemi Awolowo University, Nigeria and so far she is an accomplished award-winning author of three books: 
Book: 'I Made it Through' tells her life story and struggles following the 1983 military takeover in Nigeria. 
Bukky received national recognition through the Independent Press Award for her book 'All Will Be Well: Receiving The Keys To Strengthen Your Faith.' 
Bukky's book "Giving God Ultimate Love" received national recognition through the NYC Big Book Award program. 
Bukky writes, "We pursue many goals in life, but God intends for love to be our highest goal! Learning to love God in the highest and most passionate way can help us to overcome adversity, give us innumerable blessings, and bring a wealth of joy and peace into our lives. In my books, I show you exactly how to do this so that you too can experience God's abundance." 
Bukky's life journey has left deep marks on her. She is a firm believer and is of the view that her books can change the world. Having had to leave her parents at a very young age to protect her siblings from the hardships of political turmoil. Fighting the challenges of her life, Bukky had to seek courage from God and support herself in moving to a new country. She penned down all these struggles in her book I Made it Through. 
Continuing her journey as an author, Bukky penned down her third book All Will Be Well: Receiving The Keys To Strengthen Your Faith. In this book, Bukky embarked on a spiritual journey and unlocked the proven spiritual keys to overcoming life's challenges. She is advocating how by strengthening faith, one can overcome the adversities of life. 
Bukky's second book 'Giving God Ultimate Love' invokes spiritual thoughts by asking: do you have what it takes to give God ultimate love? In the footsteps of Jesus, the book reveals the truth of 'Ultimate Love' and how we must reciprocate the love of God. You can buy and read all three Books by Bukky Agboola. 
Bukky's multifaceted talents 
A renowned gospel singer and bestselling Christian author, adding to multifaceted talents Bukky is a passionate speaker as well. She publicly speaks to convey Christian messages to her audience. She has voiced her thoughts on multiple platforms around the globe standing along with best-selling Christian authors. You can listen to her thought-provoking speeches on her Podcast. . Her voice offers us a fresh perspective, as she continues to travel extensively sharing the gospel's good news. Bukky currently resides in Southern California with her family. Connect with her on her Contact page. Visit our Books page to watch book trailers and learn more!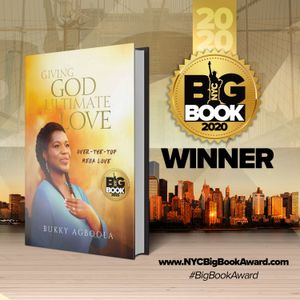 Read Reviews
"I Read Your Book! WOW!"
"Surprisingly compelling! It's not just the Good News, it is the best news in a nutshell. You have taken the dotted lines of scripture and drawn a bold and unmistakable arrow to the point! Your knowledge of the scriptures is remarkable. I was so drawn to your scripture posts in your book. It just seemed to flow like a love note!" 
- Bryan Duncan Grammy Award winner and recipient of four Dove Awards, US.
"Life Changing Experience"
"This is an amazing book to read. i could not get rid of the thoughts it brought back to me of how I used to Love Jesus with all my heart. So I downloaded the audio and listened to it everyday and night and WOW it brought me back to my senses and I am strengthened again. The one thing that has stuck with me and is still with me today - we do not give God our ultimate Love for his benefit as he does not NEED anything but it is for our benefit.... Thank you Pastor Bukky for sharing this book as I am still listening to it on audio. I am giving God my ultimate love."
- Samantha B.  Amazon 5 out of 5 Stars Review.
"This Book is a Deep Dive
Into the stories in the Bible where people gave God their unconditional love, even when it made no sense and how they prospered. Each chapter ends with a thoughtful question on how we can apply what we learned from the chapter to love God even more. Bukky is a beautiful story teller who also weaves in Bible verses to further illustrate her point. I recommend this if you need guidance on how to weather life's trials through trusting in God."
- Mary H. 5 out of 5 Stars Goodreads Review.
"When I Began Reading
Giving God Ultimate Love by Bukky Agboola I wasn't sure what to expect. I was pleasantly surprised with the content, writing style, and encouraging tone she takes. I think this book will be a helpful resource in giving the Global church a fresh perspective. Bukky is wise, witty, and engaging!" 
- Regina C. USA 5 out of 5 Stars Netgalley Review.
"This Book is about a Persons Journey with a Relationship with God"
"Every Christian needs to read this book."
Watch book trailer! Get your copy of this timely message now
Read Reviews
 "It Ignited a Lot of Positive Emotions
From me that I just had to share it to my friends and family needing encouragement. Great gift for birthdays or just about any occasion. I like the kindle version coz it has bigger fonts, u can read it from ur phone wherever u are and it allows u to write notes and highlight phrases from the book and can share it to ur friends and family through social media. Very well written . Also , a great material to dissect in ur Bible group study ."
- Maila. Amazon 5 out of 5 Stars Review.
"The Most Relatable to Life faith Keys You Will Ever Find 
This book is amazing and an absolute game changer to unlocking a life of faith. Bukky has an incredible gift for taking scriptures and people's lives in the Bible and making you feel like you are in the midst of the Bible not just reading it. This is not just another self help, good read with some key points to help your faith, but a deep dive into living a life of faith in every season. This book does not shy away from the hard questions and the real emotions and desires we have as people that make it seem difficult to walk in faith. After reading this book, I have a reframed heart and mind with the tools to walk in faith in every season of life. Whether it's good, bad or worse I know in a new way that "all will be well."
Verified Purchase-Amazon 5 out of 5 stars Review.
Bukky Agboola is on Apple Audiobooks
Get your copy now. I Made It Through No.1 Amazon Bestseller in 2 Categories. If you doubt the power of faith, read this book.
Listen to my song "I Love You Lord"